Looking for barbershop design ideas?
Write to us for a consultation
The idea of the contemporary barbershop has experienced a well-deserved revival in recent years. Both trendsetters and fans of the classics have been getting their hands on the barbershop's perfect mix of functionality and old-fashioned luxury.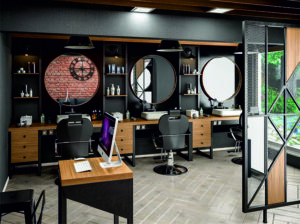 Companies all over the world
The industry is experiencing a rebirth of the idea for a place where a present-day gentleman can clean their face up and indulge in a bit of pampering. While the vintage staff with a helix of red, white, and blue stripes and other traditional elements may remain the same, a new, modern generation of barbershops is surfacing.